Scenario: One of the crew of one Trade ship has been kidnapped by a bunch of gangers. Could be for an outstanding debt, hurting a ganger or insulting his/her partner. He/she is being held in a small room in a gang controlled area.
Map Setup: standard Cyberpunk Terrain 2 x 2. A reasonable number of gangers and some civilians.
Hostility level at the start: Watch your back.
Objective (solo objective): Rescue shipmate and all crew to escape to their ship at an airlock.
Secondary Objective: Loot as much stuff from the gang's items (and hope that the Purge or the GC deal with the gangers before your next visit.
Special Rules: Hostility tracker (use Purge one until Ganger specific one) with Harvester = Low Life, Devastor = Thug and Assassin = Boss). Note that there can only be one Boss. Place one peg on the Hostility tracker for each non-silent shot or Close Combat. Prisoner door will be locked (therefore needs to be hacked) as may some other doors in the Gang's area. Ideally there should be some small doors in the areas leading up to the Gang's area so that the approach can be a bit more covert if the crew have door hacking/opening abilities. 3 spawn points on edges within Gang's area, one spawn point in a corridor adjacent to Gang's area and other two on other edges.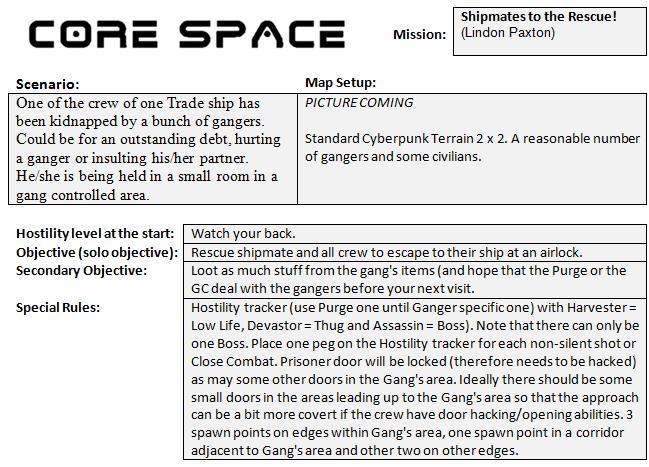 Jeff La Belle




Posts

: 137


Join date

: 2014-09-08


Location

: Tempe AZ USA




---
Permissions in this forum:
You
cannot
reply to topics in this forum