Scenario: The Company had suppressed a number of incidents from the Hephaestus installation. The research was too valuable, the results too encouraging and the cost considered too high to bring unwanted attention to the remote system. Even as the station went gradually silent, these factors were considered paramount. The less chatter the Company heard, the better the progress reports seemed. Only when the reports ceased entirely were alarms raised.
Map Setup: See photo
Hostility level at the start: Normal
Objective (solo objective): Retrieve the research results, particularly any specimens from Doctor Ophios' lab.
Secondary Objective: depending on Hostility levels/ Game events. From torching the lab; destroying the reactors; saving civilians; Destroying the Nesting Chamber; Sealing the Matter Transmitters; Sending a warning Beacon
Special Rules: Doctor Ophios will activate the Matter Transmitters when hostility level reaches a predetermined level.
What's going on: The good doctor has been part of a wider program to fuse technology obtained from an extradimensional source to the local fauna. Frustrated at the small amounts of material he had to work with, the Doctors' team has managed to get more directly from source. This has escalated his experiments to the point, he used the installations staff and families as test subjects. Their experiences and fates explained the rise then sudden fall in worrying reports. Has the Doctor's experiments destroyed his team? Or has he succeeded and is he simply waiting for more test subjects?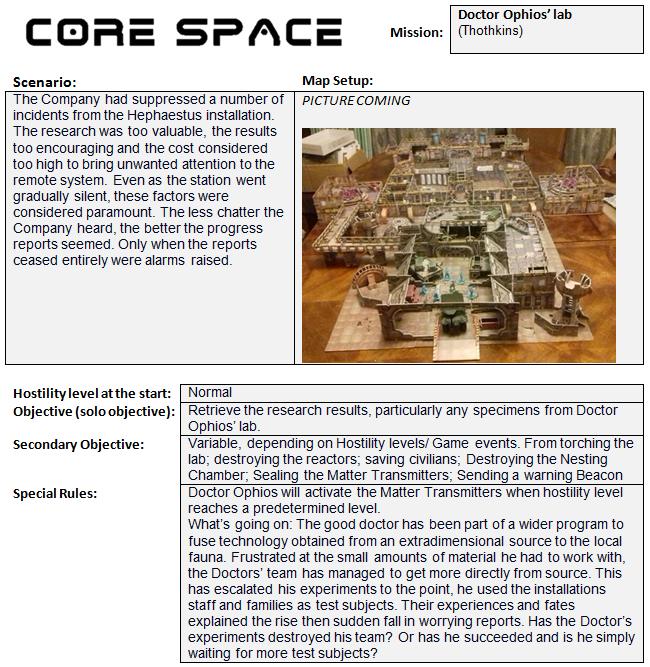 Jeff La Belle




Posts

: 137


Join date

: 2014-09-08


Location

: Tempe AZ USA





Similar topics
---
Permissions in this forum:
You
cannot
reply to topics in this forum