Scenario: The Traders are at a small privately run space station. Whilst there the station is attacked by a Purge small ship. The station owner requests help to eliminate the Purge from the station. Some Trader crews are in the station and others will leave their ships through their airlocks on their side of the station. Some Purge Live Ones have infiltrated the station disguised as civilians (or even crew).
Map Setup: One Cyberpunk Terrain set (Zed's bar optional). Lots of Purge models. One corridor along one side of the board with a number of airlocks (ideally 4 or more) with a wide corridor leading through the middle of mat to the other side of the mat (has the bar if present and a couple of stores with crates with equipment). There should be a cross corridor leading to the central corridor with Purge spawn points.
Hostility level at the start: High
Objective (solo objective): Eliminate all of the Purge (a fixed number per number of Trader crews)
Secondary Objective: Escape the station.
Special Rules: The station owner will share out 50 UA (and free drinks at the bar) amongst the Trader crews that helped to save the station and remained (nothing if they failed). Remove Ganger and Galactic Corps Event cards. A limited number of Purge (thinking about 9 Harvesters, 2 Devastors, 1 Assassin and 1 Live One per Trader crew) with the Live Ones already on board disguised as civilians or crew. Purge start with 9 Harvesters, 2 Devastors and 1 Assassin on the board (at the far end up to 5 inches in from spawn points). There are also 3 civilians/crew models per Trader crew, who are placed near the middle of the board an always move away from the Purge and towards the airlocks. If a Live One is rolled then one of the non player civilians/crew becomes the Live One. This should be one closest to one of the players crew members.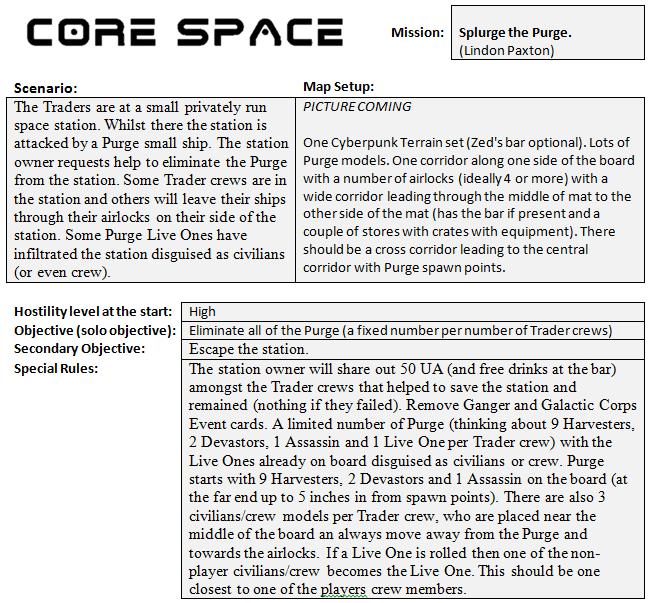 Jeff La Belle




Posts

: 137


Join date

: 2014-09-08


Location

: Tempe AZ USA




---
Permissions in this forum:
You
cannot
reply to topics in this forum