Scenario: Scotch one up! Docking is always the easy part.. pick an air lock (or roll for one). The Gang is already on station having intercepted your transmission to Zed's Bar and Grill. So the Gang is after you with a Vengeance being that they are related to the Terrorist Gang from the earlier mission and know about the valuable object you are trying to sell.
Map Setup:PICTURE COMING
Core set and Zed's Bar components in middle of board.
Hostility level at the start: Medium as the gang is spread out not knowing which air lock you will use.
Objective (solo objective): Can you and your crew block the gangers (or take them out) and get to Zed's and back to your ship with the Loot (cred units)?
Secondary Objective: Will be to meet one of your normal contacts with a new job... that job being: picking up classified data (due to it's nature it is being sent not through normal channels).
Special Rules: Designate who is carrying the Scotch and get him/her/it to Zed's without breaking the bottle... a grenade blast would do it.. or being shot up ... or captured.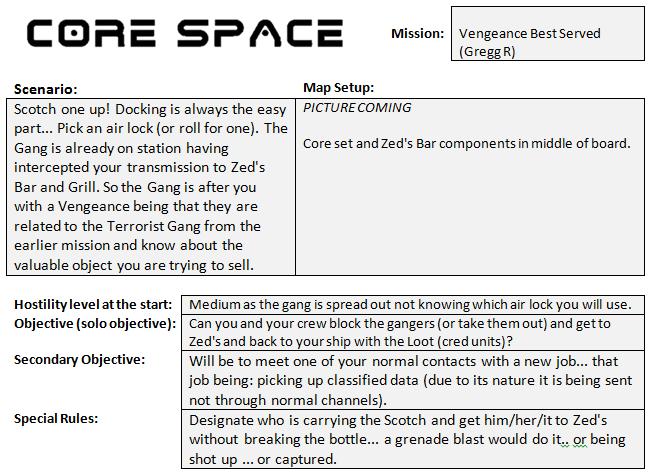 Jeff La Belle




Posts

: 137


Join date

: 2014-09-08


Location

: Tempe AZ USA




---
Permissions in this forum:
You
cannot
reply to topics in this forum