Scenario: You docked on the wrong station to be sure... but had to due to failing life support system. Only to find out a gang has taken over this station and are holding everyone hostage (more importantly - the mechanic needed to fix your life support system). You have only so much time to "turn" the tables on the gang and rescue the hostages before Troops are sent in to kill everyone (only way to be sure to clear out the bad guys) for them this is acceptable level of collateral damage. if you manage to acquire the secondary objective, which is; an experimental drug (what the Galactic Govt. wants and why they are willing to have the high level of collateral damage). This drug is a cure for an experiment gone wrong on another station creating creatures that are now loose...
Map Setup:PICTURE COMING
Core Set (larger if more players)
Hostility level at the start: High (changing purge for gang/terrorist
Objective (solo objective): Rescue the hostages (primarily the Mechanic)
Secondary Objective: Find and get away with the experimental drug
Special Rules: X amount of turns.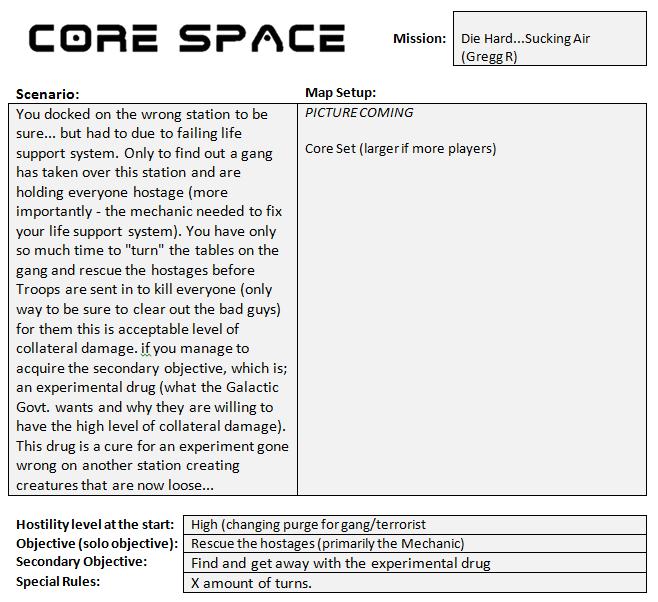 Jeff La Belle




Posts

: 137


Join date

: 2014-09-08


Location

: Tempe AZ USA




---
Permissions in this forum:
You
cannot
reply to topics in this forum