Scenario: After leaving the Trading Post (sorry about no R&R) you managed to pick up 3 or 4 passengers and a crate of "luggage" from each. Once on your way and everything seems normal your pilot picks up a "purge" code signal.... and it is originating from within your ship! Hurry!! Your crew (minus one - piloting and trying to block the signal) must search the ship for the transmitting device. Easy except somehow there is a purge assassin on board to stop you (and you suspect one of your passengers is a Live One. Now the clock is ticking ... for if a signal did get out, the purge that had landed at the Trading Post is close and on the way.
Map Set Up: Build "your ship" and cargo bay (or ships if multiple players).
Hostility Level at the Start: Cover Me
Objective: Find the crate with the transmitter in it and deactivate it. Worth 80 UA
Secondary: Find and stop the Live One (if revealed) before you get to the next base. 10 UA x number of civilians still alive at the end.
Special Rules: Place a token in one of the crates to be spread out at random in the cargo bay. Preferred if there are multiple shuttles (2) within the bay (can even place a crate in a shuttle). Assassin starts in cargo bay in a protected out of line of sight location. Randomly place civilians and Zool around the ship (secretly pick one from a random draw) to be the Live One, which only reveals itself after 2 or more harvesters have arrived. Otherwise ... it rides to the base with you... oh no!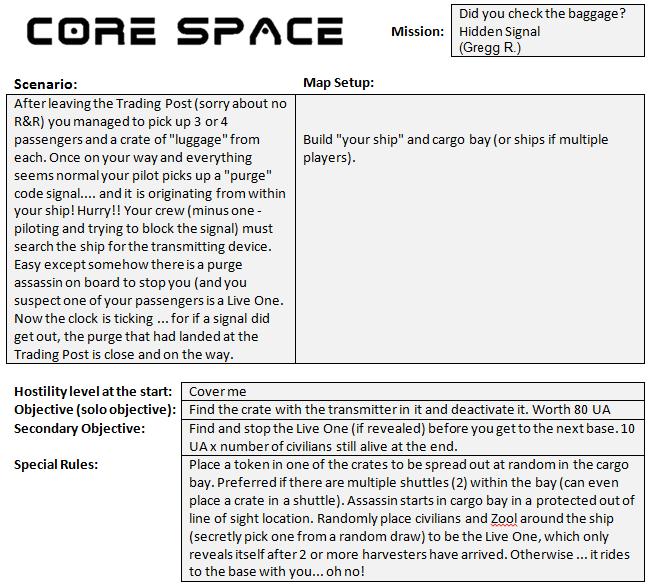 Jeff La Belle




Posts

: 137


Join date

: 2014-09-08


Location

: Tempe AZ USA




---
Permissions in this forum:
You
cannot
reply to topics in this forum