Evil Labs is at it again, this time i am after a spiral staircase.  Only the innards right now.  The design has supports and materials that go along the steps on the outside part of the spiral and of course a base plate (circle) all of which i left out of the designs so i can get height right to go to a second floor and spacing so that two minis, 28 mm, could share the same step and fight!
Chipboard layout

https://i.servimg.com/u/f18/18/99/26/76/chipbo12.jpg

And first build with some zombicide minis

https://i.servimg.com/u/f18/18/99/26/76/stairc11.jpg
Ok hate to say it,

but Jason was right, making a 4" dia staircase got all the materials in the prototype onto one half of a 8.5"x11" sheet. Alpha attached
https://i.servimg.com/u/f18/18/99/26/76/4_inch10.jpg
grr, the 4" diameter spiral is too small for me, looks like without a lot of little tweaking (step height, size, spacing) its just too small to hold one mini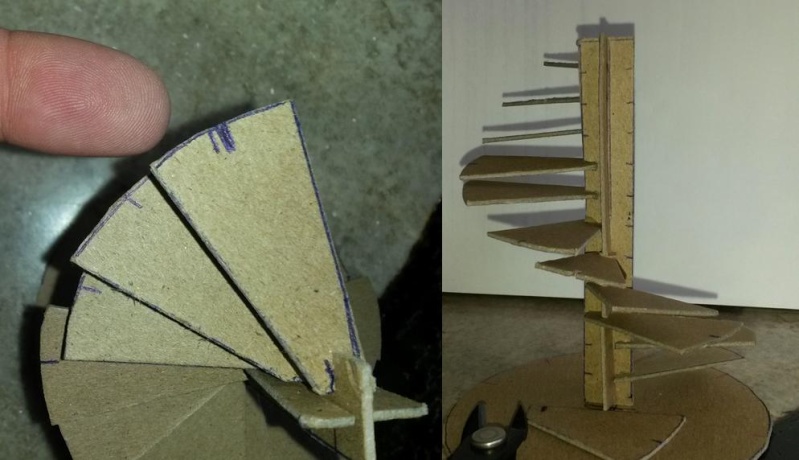 Ok, thanks to Questoflegends breaking my brain fart, got next prototype done, on paper for layout, making many of these now, I can say I can see this will work... Thanks QoL!!!  

The top two pieces are the central column again, they slot together to make what looks like an X from above, notches are  missing but it's basically two on each end of the X, starting on lower left, notch on the base 0" mark, go up 1/2" and notch, then 1" and then move to next arm of X and notch at 1.5" and then 2", repeat.  The central 4" circle is the base that needs an X cut into it to hold the central column, laser cutter comes in handy here.  The two lower circles are the stair steps, you need four each kind. Alternate using them when constructing.  More to come

https://i.servimg.com/u/f18/18/99/26/76/image10.jpg
ok Colin said 4" was enough, not sure what he was talking about but here is a 4" spiral staircase, 8 steps per 360 degrees, 4.5" tall, can easily be modified to go down to one floor height or whatever, enjoy!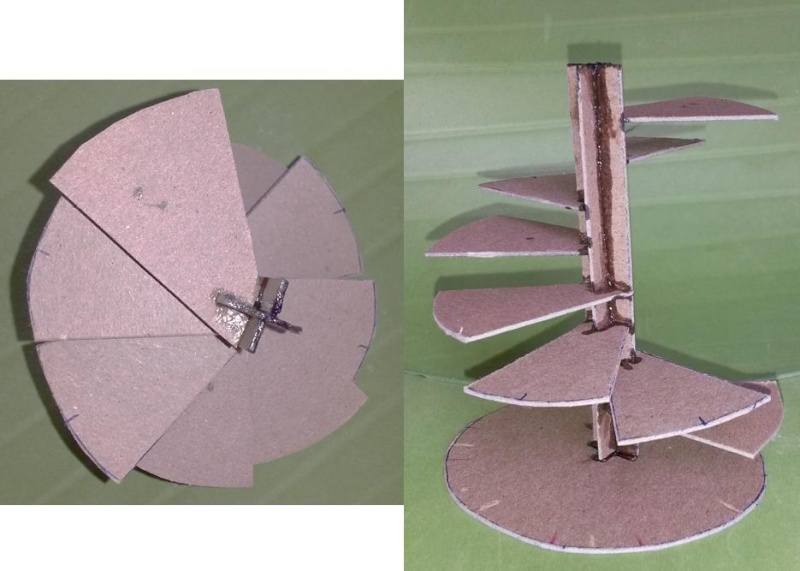 Similar topics
---
Permissions in this forum:
You
cannot
reply to topics in this forum